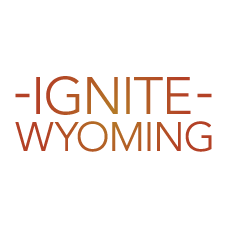 Please fill out the form below with your name, contact information, artist statement and logo attachment. Preferred format for logo submissions is a JPEG, PDF, photograph or scanned original. Images provided in other formats may not be considered.
If you prefer to send in original artwork, please mail your submission to Wyoming School Boards Association, Attn: Julie Magee, 2323 Pioneer Avenue, Cheyenne, WY 82001. Mailed submissions must be postmarked by May 1, 2020, and may not be returned.

The winning student or class of students will be honored as the first "Ignite Wyoming" student(s). The school of the winning logo will receive $250.
Rules
Individual students may submit one entry.
A class of students may submit up to the equivalent of one entry per enrolled student.
Notice and Privacy Policy
The winning submission becomes the property of the Wyoming School Boards Association. We reserve the right to reproduce, post, print, and share the winning logo for the Ignite Wyoming campaign.
The winner (or class of winners) grants the Wyoming School Boards Association permission to release the winner's name(s), school, and school district. Any additional information about the winning student or class of students, including pictures or videos, will not be obtained or shared without student, and if applicable, parental consent.